Intimate Backyard Hana, Maui Wedding | Jen & Māhie
I first met with Jen and Māhie back in 2018 when they were initially planning their wedding – which was supposed to happen in 2020. In fact, I'm pretty sure the coffee shop we met in doesn't even exist anymore! But from our first interaction, I knew this was going to be a wedding I wanted to be a part of. And a 150+ person wedding in Wailuku turned into an intimate backyard Hana, Maui wedding. And ya know what? It was everything we talked about in 2018 and even more.
From a beautiful ceremony with their VIPs, some amazing food cooked by friends and family, hula performances by the keiki under the full moon – this was a wedding that will be at the forefront of my mind with each visit to Hana town.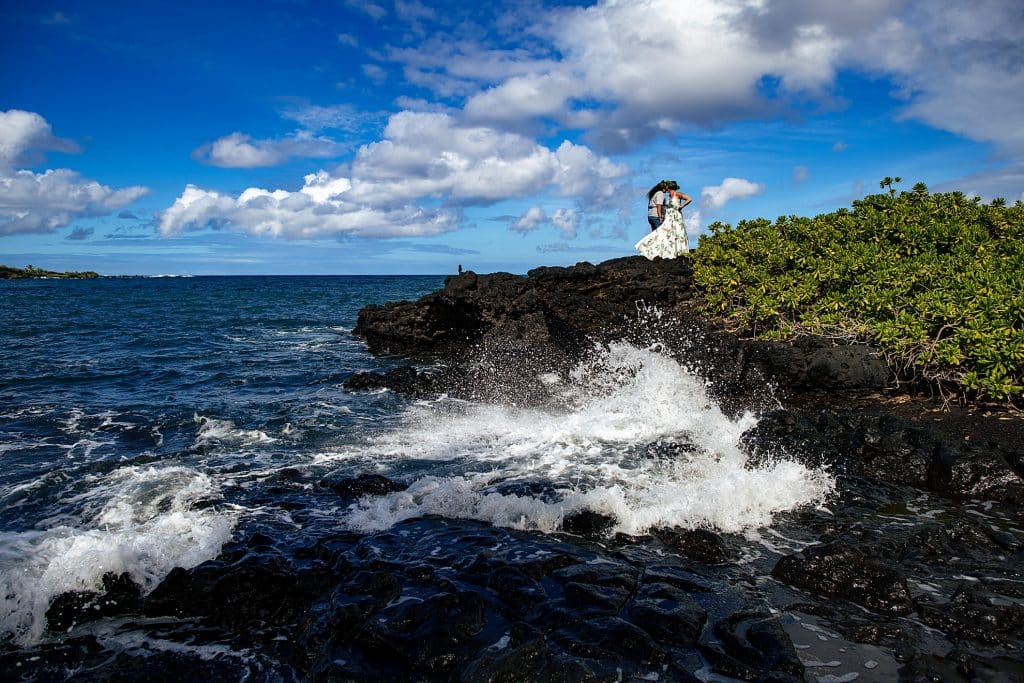 Intimate Backyard Hana Wedding
1. Tell me about your thoughts leading up to the wedding, did you think about it growing up, did you plan it together? How did it feel to make your choices and marry one another?
Māhie: Sure, growing up I thought about getting married and how I would want my wedding to be, but over time I kind of also felt like I didnʻt need to be married. Growing up everyone was divorced, so it seemed like what's the point? I was fine with being in a long-term relationship without the logistics of it all.  Over time as our relationship grew we both talked about our future together and then Jen would not shut up about getting married which made it hard to even plan a proposal.
Jen: The funny thing is that I had been against marriage since women's studies classes in college.  I learned that it is a tool of the patriarchy, used to ensure the transfer of property from fathers to sons.  No thanks.  But then along came Māhie…and as we worked together to build a life that reflects our dreams and ideals, I started wanting to "make it official".
I think this is particularly important for Queer couples because there are so many ways that our lives and families are still threatened, legally.  And I think the timing of wanting to get married also had something to do with COVID for me.  Early on, it felt like everyone's lives were in danger.  And then as the pandemic wore on, I wanted something joyful to plan and look forward to and think about.
Why We Chose Maui for our wedding
2. Why did you choose the venues/town that you did?
M: Before we talked about marriage, we had conversations about our "dream menu" all the time. We like to plan things around food. But once we did get engaged, then we planned and replanned and replanned our wedding due to Covid. I have a huge family and I still had a hard time narrowing down the guest list when there were no restrictions.
J:  We were originally going to have a 200-person wedding at Hale Hōʻikeʻike, and even then I still wondered if we would have room for everyone.  I had friends and family coming from all over the US, and Māhie is one of 25 grandkids on her momʻs side and 17 on her dadʻs side.  We were really excited about getting everyone together.  But a year into COVID, it became clear we would not be having a gathering of that size anytime soon.  One day I was Googling COVID safe places to elope, and I kept getting "Maui" as my answer.  Ha!  So we started thinking about a small wedding with immediate family only, out in Hana.
Thatʻs really our dream spot, our special place, and where Māhieʻs dad and grandparents are from, so we started searching.  We had a hard time finding a place big enough that would allow us to gather with 20 or so people because restrictions were still in place.
Then one day, THE PERFECT SPOT popped up.
It was right between Kapueokahi and Waikoloa – very important places for our family. I thanked our grandparents in heaven and booked it right away! We were sad to make the calls at first to let extended family and friends know we had to change our plans, but as I made the calls I was a little relieved. I didnʻt realize how stressed out I was about all of my favorite people arriving at once and not being able to spend enough quality time with them. So instead of a huge 4-hour wedding, we ended up planning a tiny 5-day wedding.  In our favorite place on Earth.
3. What was your favorite part of the day?
M: Our favorite part of the day was all of it. We started before sunrise with a hiʻuwai (cleanse) and pule (prayer) with our dear friend who was also our wedding officiant. Then we cruised around having breakfast, relaxing with family, and getting ready. We kept it simple, so not too much needed to be done. I laughed when my cousin was like, "K, what get fo do?" and I cracked open a beer and passed it to him and said, "nothing". Everyone else was at the beach swimming or gathering flowers.
We also enjoyed our time taking pictures because we normally donʻt take any nice photos or pictures in general. Most of my photos are of pets and nature.
J:  I was wondering how the photos would go because we really arenʻt "selfie people".  But Angie made us crack up laughing and it was nice to steal some moments away together before and after the ceremony.  Plus, Hana is just magical.  Leading up to the wedding, we met with Angie to talk about possible locations and make a plan.  But then we got there the day before the wedding and I sent pictures of the views from the yard and she was like, yeah…that will do!  It was lovely.
I was also surprised by how much fun the actual ceremony was.
We donʻt have kids, but our entire wedding procession was under age 13.  They were so cute!  Our nephew played the ukulele and sang "Pua Kea O Hana" during our procession.  We wrote our own vows and saying them was really special and meaningful.  Iʻm not sure if anyone heard us over the ocean, but it was a really happy moment for me. Then the kids all blew bubbles and we all danced around to our wedding song.  Thanks to Angie again for the bubble guns!  The kids loved them.
M:  We chose to get married on a full moon because our relationship began on a full moon night. I even planned the proposal around the full moon phases. That is a whole other story… Let's say, Jen did not make the surprise easy, as well. Anyways, we celebrate every full moon.
J:  Dinner was amazing, and celebrating with our family under the full moon was perfect.  The kids danced hula and everyone celebrated together.  There were even fireworks in the distance.  Of course, Māhieʻs family could not stay away, so we had wedding crashers sneaking down the hill to join us.  There was so much happiness and love surrounding us.
4. What were your favorite details and why? (dress, suits, flowers, etc)
M:  One of our favorite details is our rings. We designed them together based around meaningful symbols. I knew I wanted a signet style ring, I think in my past life I was an old Dandy. I decided to go with our initials encircled by a dodecahedron which is two hexagons combined. Jenʻs ring is a hexagon-shaped moonstone.
J: That the hexagon is a shape that provides a stable foundation and structure and represents the potential for life.  According to Plato, the dodecahedron represents the entire universe. Every time I look at my moonstone ring, it reminds me of the beautiful full moon in Hana on our wedding night.  The symbol on Māhie's ring is engraved on the wooden box for my ring, and her godson, Moon, was the one to carry it in the ceremony.  He asked what was in the box and I told him to open it and he said, "Woooowwwww!  So sparkly!"  I told him it was a moonstone and he said, "No way!  My NAME is Moon!"  Too funny!  We hadnʻt even thought of that.
I also really liked having a casual wedding.  Some people had shoes on, some did not.  Everyone was comfortable.  It was a beautiful day.
5. Why did you choose me as your photographer?
Several people advised that the photos are what you get to keep after the wedding, so if you are going to splurge, spend some money on photos.  I have known Angie for some years because we have paddled in Hawaiian outrigger canoes (waʻa) together.  I knew she had a talent for capturing the energy and people at a wedding and also for working at night.  We wanted some artistry to our pictures…not just the usual portraits.  We also wanted to work with someone we know.  It was such a great decision!  The pictures from this day are on our walls, on our family membersʻ walls, and have even become important mementos of beloved family members who are no longer with us.  We will cherish them forever.
6. Do you have any wedding advice for couples getting married in the future?
For couples getting married in the future, we would like to share this:
M:  You can have a great wedding without going over budget.  Everything in our wedding was meaningful to us, but that doesn't mean you have to spend a lot of money.  I think a lot of people go crazy, but then the whole thing can become really stressful.  Save your money for a downpayment for a house.
J:  As we were planning, it was funny how many times I had to explain that this was my FIRST wedding at age 45.  But I am really glad I waited.  I didnʻt have any doubts.  That might not be everyone's path, but having done so many other things in life already made this commitment an easy one to make.  For the wedding itself, I have to agree with Māhie.
It seems like sometimes people get so wrapped up in the perfect fairytale wedding and maybe they forget the reason for the day – and that their marriage will hopefully last forever.  I have even seen a couple or two not make it through the wedding planning process.  They lost sight of why they were even doing it.  Staying focused on our shared values and the reason for the celebration was really important to us, and it made our wedding a really heartfelt, personal milestone in our lives together.  Our guests say that it was a really fun, special day for them, as well.
————-